Today's businesses must retain their exposure and credibility. In today's cutthroat industry, simply being online is not sufficient. Web developers must create compelling sites to assure an ROI to profit from their websites and generate more traffic to them.
It makes sense that you would search for a web design firm that fits your needs and your budget. More customers have been drawn to the websites as a result of the creativity and innovation introduced to them.
Numerous web design businesses have recently been created in Kolkata, an economic hub. But how do you choose the best and most sincere one?
Although there may be a wide range of choices, you want to choose the best. Following are some features that the top web design firm should have;
What Are The Top 8 Features of the Best Web Development Company in Kolkata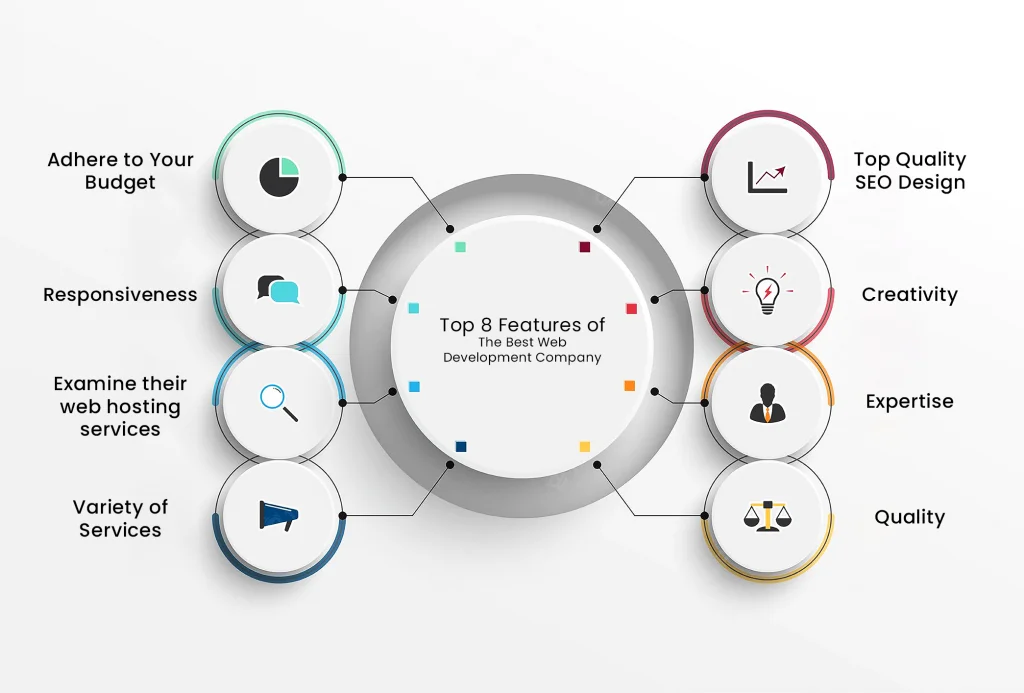 Expertise – A professional web design company in Kolkata should have expertise in different fields of technology such as fast loading, proper colour, code validation and style are important features of a good web company. It should know how to use various tools and software to create attractive websites. He/she should also have knowledge about the latest trends in website designing.
Creativity – Creativity is one of the major features of a professional web design company. A creative person can easily understand what his client wants and then develop a unique concept for him. He should also be able to work under pressure and meet deadlines.
Examine their web hosting services – Check to see if they offer trustworthy and efficient virtual or dedicated web hosting by evaluating their web hosting services. Recognize how frequently they back up the site and how much space they take up in storage. Additionally, you need to learn about the server uptime predictions and the hosting platform's processing power. You can choose a web development company based on these considerations to ensure that your website performs at its best after delivery.
Responsiveness – A responsive web designer should be able to respond to any kind of request or query from his client. He should also be willing to listen to his client's ideas and implement them accordingly as well should have a 24/7 customer support system.
Quality – A quality web designer creates high-quality websites using the best technologies. He/she makes sure that the content is relevant and interesting to users. And should use modern tools and techniques to develop attractive websites. Also, it should have a quality control department that checks each project before it goes live.
Adhere to Your Budget – A Kolkata-based web development business that offers a quote within your price range is crucial. Additionally, keep in mind that spending money on web development services is worthwhile if you select the best course of action for all of your problems. Even though these investments may seem pricey, a fantastic website created by the greatest teams may assist you in generating cash right away and realising a sizable ROI in no time.
Variety of Services – A business that provides a variety of services should be well-versed in web design tools and methods. A professional web design agency should offer a variety of services including graphic designing, logo designing, web hosting, search engine optimization (SEO), content writing, etc You need to take a look at the portfolio before using its services.
Top Quality SEO Design – A business needs to use SEO components while building and developing. A corporation must therefore comprehend SEO designs. Selecting a business with solid SEO knowledge is your priority.
Final Thoughts
It might be difficult to choose a web development company for your business in Kolkata, but taking these 8 considerations into account will definitely help.
The client-centric approach of HTSM Technologies, a leader in digital transformation, and their capacity to effectively cooperate and communicate during all phases of product development to guarantee that clients' values and goals are incorporated in the products, make them highly sought-after. We create top-notch websites for our clients based on their needs and specifications using subject-matter experts with expertise in advanced technologies.