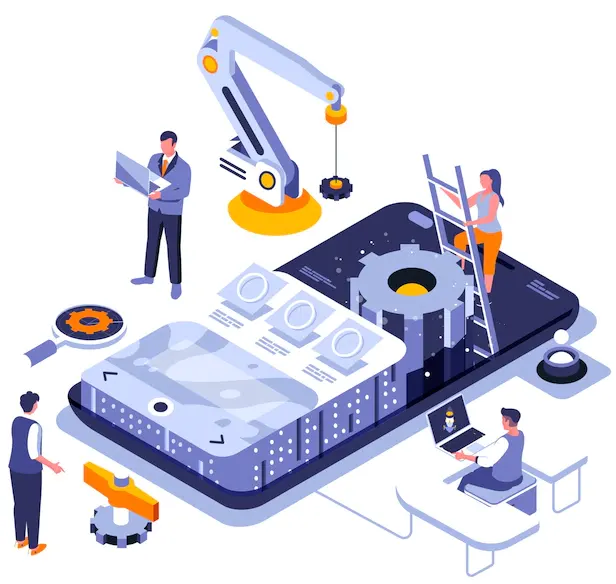 IoT App Development Services in Kolkata
The Internet of Things (IoT) has linked the physical and digital worlds to create an efficient ecosystem that adds value at every stage.
We Provide IoT App Development Services Like No Other
HTSM is a well-known brand for providing clients with cost-effective, dependable, and scalable IoT solutions. We provide ROI-driven, bespoke IoT application development services connecting systems and combining data from the real world with sensors and internet access.
We assist you in addressing business difficulties and technological barriers with IoT solutions, from concept to implementation. We have the skills and in-depth knowledge needed to create compelling IoT apps for various sectors, allowing you to propel your organization forward.
Our IoT Services are Tailored to the Needs of Businesses
At HTSM, we provide full IoT development services, utilizing cutting-edge technology, tools, and programmers to transform your manual operations into smart ones.
Customized IoT applications - We help you realize your digital transformation by creating scalable, frictionless, effective, and engaging custom IoT apps.
Fast IoT solutions - Start boosting your ROI by accelerating business processes and performance with real-time data gathered through ready-to-deploy IoT solutions.
IoT in devices - Sensors, actuators, communication hardware, CPUs, and other components are used in IoT devices to capture, transmit, and receive data and to conduct intelligent activities.
Here's Why You Should Choose Us as an IoT App Development Company in Kolkata
Hire one of our IoT app developers to assist you in creating cutting-edge solutions that link mobile phones to remote equipment. Our developers create IoT apps for a variety of industries and use cases. The following are some of the benefits of working with HTSM for IoT app development.
Customer satisfaction is essential

We use the most up-to-date frameworks and technologies to provide user-friendly, scalable, secure, and innovative business solutions.

Procedure for Adaptability

We use the Agile methodology and hold events regularly to improve our processes and procedures and give the best results.

Dedicated Groups

We have a dedicated team of IoT developers with extensive experience developing high-end business solutions using a variety of frameworks and technologies.

Transparency and Integrity

We value your ideas and vision, give you every project detail frequently, and consider your valuable input as needed.

Models of Flexible Engagement

Rather than operating within unwelcomed tight and rigorous limits, we allow our clients to choose from various engagement and employment models.

Competitive pricing

To ensure the lowest pricing in our segment, we offer an optimal blend of cost-effective rates and exceptional quality.

We offer a whole variety of Internet of Things development services at HTSM, utilizing cutting-edge technology and the expertise of our team of seasoned IoT app developers. Our IoT experts can assist you in turning your gadgets into smart devices.

We help small and mid-size businesses build, manage, and scale their operations with unique IoT development solutions and services.

Our IoT app development services for mobile and web are designed to help you run your business more efficiently. We deliver timeless items by utilizing the most cutting-edge digital technologies.