Whenever you need to develop a website for your real estate business, you should definitely consider choosing an experienced and trusted real estate website development company of India
HTSM Technologies Pvt. Ltd. is one of the most trusted and experienced website design and development companies offering same service all over India at affordable cost.
Technology has changed the searching patterns of property seekers. Most property seekers search properties on the internet nowadays. No doubt brand is always matter but A part of people find online solutions of their query. So If you are involved in the real estate business and want to be found by maximum property seekers, then you will need to create an online presence and first option is to build a website.
At HTSM Technologies, we help real estate businesses to build a responsive and impactful website that can generate more leads of prospective customers and convert them into sales, and ultimately generate more profits.
Types of Real Estate Website – We Are Expert In
Business to Business Real Estate Website – A real estate website having option to register for a vendor to list their property for sale. This is call B2B real estate website. Here admin have full control of website. Admin may edit the vendor details, delete or block the vendor account, May set premium or free account and many more. We are Expert in all.
Business to Customer Real Estate Website – Also call single vendor real estate website, Here Website owner have full control of the website. Owner have option to add, edit and delete their property and sale their property through website. We integrate the payment gateway to collect the payment online.
Real Estate Website for Paid Campaign- Many property owner want to sale their property through online paid campaign like google Ad, Social Media Ad, Affiliate Ad and they only want to collect the lead through these campaign. They only want to develop a simple landing page for lead collection because some time property owner want to promote their property for a certain time period and after that there are no use of the website. So why the invest more money for it.
Simple and Static Site Just for Information – Many property owner run offline campaign to sale their property and want a simple static website to share business information and collect the lead.
Real Estate Website Dedicated to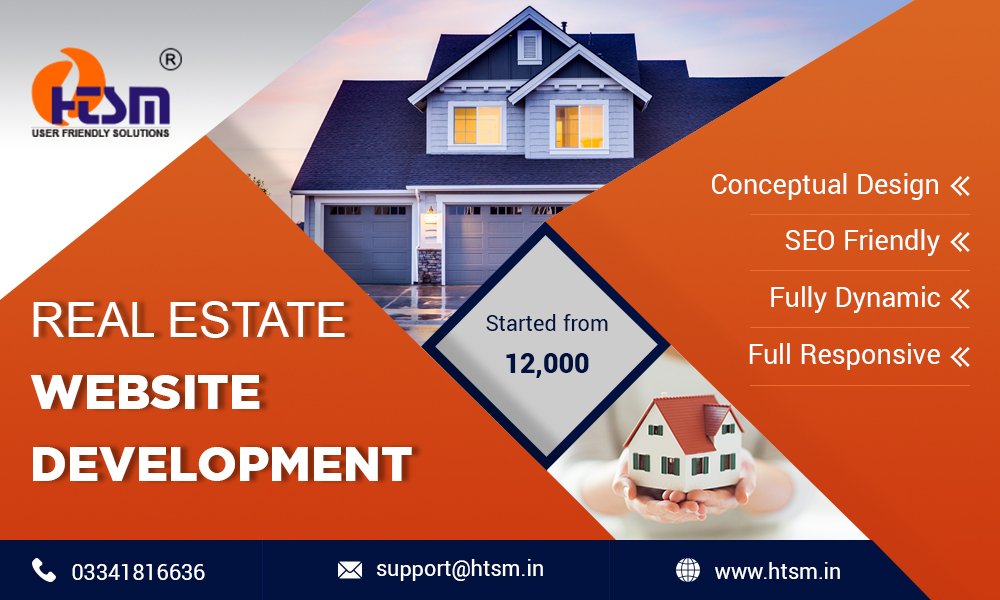 Real estate company website – our expert team can design and develop a real estate company website with all the necessary features. We create real estate company websites with customized attractive designs, property listings, agents' connections, mobile integrations, and many more.
Real estate broker website – we are experts for making real estate broker websites with lead capturing and nurturing features. Our SEO optimized website design and development services may help your website rank higher in the search results and grow your real estate business faster.
Real estate agent website – we offer website design and development services for real estate agency businesses. Our custom design includes everything a real estate agent requires like listing multiple property builders, booking options, EMI calculator, finance services, etc.
We have a hierarchy team of strategist, designer, developer, and quality analyser to make your real estate business website easy to navigate, engaging, and result oriented.
Cost for Real Estate Website Design and Development
We have inhouse team to develop all categories of real estate website design and development and we always offer affordable cost for It.
Static Website Just for Information – 5000 to 8000 Thousand.
Real Estate Website for Paid Campaign – 3000 to 5000 Thousand
Business to Business Real Estate Website – 40000 to 150000 Thousand
Single Vendor Dynamic Website – 20K to 35K
Benefits of our Real Estate Website
Log-in feature: visitor log-in feature helps you to capture leads that can be used for future communications.
User friendly CMS: we leverage user friendly CMS so that you can customize and maintain your website contents easily according to your business needs.
MLX/IDX: we integrate IDX/MLX so that you can maximize your property listing and increase your business efficiently.
Property showcase: you can showcase your properties with virtual tours, photographs, and many other ways.
Location direction: we add a Google map to guide website visitors to reach your property site effortlessly.
Property locator: we include a property locator so that your visitors can filter searches based on location, size, and price.
Associated tools: we integrate associated tools like loan EMI calculators and more.
Autoresponders: we enable an automated email marketing system on your real estate website to nurture prospective customers and increase sales.
Live chat: we integrate a live chat facility system for answering queries of new visitors as well as for after support for old customers.
SEO optimized: we build a search engine optimized real estate website to increase visibility on the internet. The more visibility on the internet, the better the opportunity.
Affiliate program: you can include an affiliate program on your real estate website to increase your business volume through several affiliate partners.
Social media ready: we add social media links and tools so that you can easily share your property details on multiple social media platforms.
Analytics admin area: we include an admin area with analytics so that you can see your visitors' demographics, interests, and activities.
Blog section: we add a blog section separately so that you can create valuable blog content to boost your ranking and business.
Mobile responsive: we develop a mobile responsive real estate website that will work on desktops, mobiles, and tab devices simultaneously.
HTSM TechnologiesPvt. Ltd. has more than 15 years of experience and a dedicated support teamthat you can hardly see anywhere else. When it comes to website development,after support matters a lot. We offer the bestquality real estate website development services at a very competitive price.
Contactus today to build your real estate business website by reliable and experthands of HTSM Technologies Pvt. Ltd.